By Marge Bitetti

RIVERSIDE—The stream of reverent devotees was nonstop at Queen of Angels Church in Riverside on March 14 as hundreds turned out to venerate the relics of Saint Padre Pio. 

 The day of veneration culminated with an evening Mass, celebrated by Diocesan Vicar General, Monsignor Gerard Lopez, S.T.L., that was attended by over 1,500 people. 
 "St. Pio left us these relics for our sanctification," Msgr. Lopez said during his homily. "We are in unity with Pope Francis who is going to San Giovanni Rotondo to pray for the suffering. This is true of all of us, we are all in need of God's healing, asking God through St. Pio to give us strength even in our suffering." 
 The following day, St. Padre Pio's relics were venerated at Our Lady of the Rosary Cathedral in San Bernardino from 8 a.m. to 12 noon, where they also drew hundreds of Catholics to pray and reflect on St. Pio's life and ministry. The relics were also venerated privately by seminarians at St. Junipero Serra House of Formation in Grand Terrace on the evening of March 13.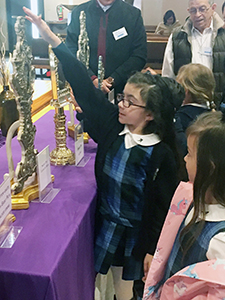 St. Pio is the only priest in the history of the Catholic Church known to have the stigmata, the wounds of Christ. Evidence of these wounds was visible in the relics that were on display which included: St. Pio's glove, crusts of the wounds, cotton-gauze with St. Pio's blood stains, a lock of his hair, St. Pio's mantle, and his handkerchief soaked with his sweat from hours before his death.
 Students from Our Lady of the Assumption School came to Our Lady of the Rosary Cathedral in shifts to venerate the relics. Principal Sue Long said the veneration was a powerful reinforcement of the Lenten observances and discussions taking place on campus.
 "The whole idea is for us to emulate the holy men and women of the Church," she said, "and this just brought everything to life."
 Many people at the March 14 Mass at Queen of Angels shared how meaningful it was to them to have the relics of St. Pio in Southern California. 
 "I feel closer to him here," shared Antoinette Alexander, a parishioner at Queen of Angels who has been to the St. Pio shrine in Italy. She added that this experience made her think of her father because he first introduced her to Padre Pio when she was a teenager.
 Daniel and Carmen Sanchez from Christ the Redeemer Church in Grand Terrace shared that they had studied the life of Padre Pio with their prayer group. Daniel said, "For me, Padre Pio is one of the blessed. I feel the peace of Padre Pio in my heart." 
 Didi Aringer from St. Catherine of Alexander parish in Riverside came with her aunt, Grace Gutierrez, who traveled from New Mexico to see the relics.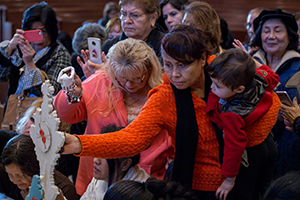 "Padre Pio is one of my favorite saints," Gutierrez said. "The relics help me to stay on track to follow Jesus the way that he did."
 Deacon Mike Jelley, Vice Chancellor and Director of Ecclesial Services for the Diocese shared, "Perhaps we can simply say that saints are deserving of our admiration for living lives of devotion despite the great challenges they had to endure. Any devotion which draws people closer to God and brings comfort and spiritual healing, or even physical healing, is a true blessing "
 Nellie Garcia, a member of the Legion of Mary and a parishioner from St. John the Evangelist in Riverside, said "I know Padre Pio is very powerful and his duty to the Lord got him the gift of the stigmata and now he is giving back to the people on earth."
 Queen of Angels parishioner Alfonso Negrete shared a touching personal story about his survival from a brain aneurysm and kidney problems. He was not expected to live and was in a coma and on life support for over a month. Following his recovery, he needed kidney dialysis. He was blessed because after three years on dialysis a donor was found, and he received a kidney transplant. Alfonso said that he knows that the prayers of his parents and relatives in Mexico is what helped him to stay alive. He has a few limitations, but he does what he can to help his sister and the parish because he feels strongly that his restored health is a blessing he said, "God gave me a second chance. I have to do what I can do to help."
 Despite the large crowd at the church the atmosphere was solemn and prayerful. Many people prayed the Rosary, some did private meditation, a few were teary eyed, and others prayed the Stations of the Cross while they waited for an opportunity to touch the relics. In St. Padre Pio's words, "Prayer is the best weapon we have; it is the key to God's heart. You must speak to Jesus not only with your lips, but with your heart. In fact, on certain occasions you should only speak to Him with your heart."
---
 Marge Bitetti is a freelance writer and parishioner of St. Matthew Church in Corona.