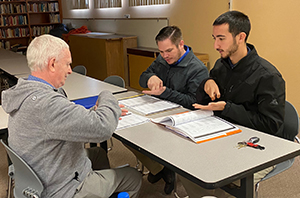 That kind of isolation is felt by many deaf Catholics in the Diocese who would like a more active ministry to their community.  But help is on the way thanks to a group of diocesan seminarians who are taking matters into their own hands...literally.
 The young men at St. Junipero Serra House of Formation in Grand Terrace are now studying American Sign Language (ASL). The weekly class focuses on the gestures and expressions needed to communicate with the deaf. It all started when seminarian Bryant Rivas struck up a friendship with retired teacher and deaf parishioner Gerald L. Sullivan. The pair would sit together at neighboring Christ the Redeemer Catholic Church and Sullivan would sign. Other interested seminarians joined them and eventually Mass was followed by breakfast at Serra House.
 "[He] brought his folders; one with common signs and one with liturgical signs. We stayed after breakfast and had lessons," explains Rivas, now at Assumption Seminary in San Antonio. "Like any good ministry, it came through a relationship."
 Upon seeing the interest in ASL, Serra House Rector Father Jorge Garcia turned the light lessons into a formal class. Sullivan along with aide Adrianna Robles say they're happy to volunteer because they have high hopes for the seminarians.
 "My goal for them is to use ASL while they work with the deaf children and when they celebrate Mass," says Sullivan with Robles interpreting. "I hope they do this because there is a need for it."
 The Holy Hands Deaf Ministry understands this need all too well. The group, made up of deaf parishioners and interpreters in the Diocese, meets for event planning along with faith sharing. They, too, are eager for the seminarians to become priests. On their list of priorities is easier access to Sacraments like Holy Matrimony and Reconciliation. The latter presents real problems for privacy, explains Patty Lopez, who was born deaf.
 "I do not go to Confession because there is no signing priest and I'm not writing down my confessions," she says through an interpreter.
 Members of Holy Hands chuckle and nod their heads in agreement. Another unmet need  expressed by the deaf community is learning and feeding their faith. They say this is hard to do when many retreats, bible studies and other parish events don't have signing priests or interpreters. Some parishes in the Diocese offer Masses with an ASL interpreter but many do not. The neighboring Diocese of Orange and the Archdiocese of Los Angeles are more advanced in their ministries to the deaf.  The Diocese of Orange provides the deaf with religious education, workshops, citizenship classes and more. The Archdiocese of Los Angeles offers Holy Angels Catholic Church of the Deaf, a personal parish that is run by priests who are deaf and geared entirely to serve the deaf community in greater Los Angeles.
 At present, Holy Hands is simply trying to foster a greater understanding of their reality in the Diocese.
 "We need priests that are patient with the deaf," says Paul Ventura, who likely lost his hearing from a childhood bout of German Measles. "So many things could be done to help the deaf have a better understanding of what the Catholic Church is about. In Mass, they often ask 'Why do you do this? Why do you do that?' "
 His wife of 35 years freely expresses her frustration.
 "I lose motivation. I just don't want to go back," says Theresa Ventura a parishioner of St. Martha Catholic Church in Murrieta. "Everything goes by me and I don't understand it."
 Theresa, who was born deaf, credits her husband with teaching her much about the faith. "Oh yes, here's my halo," Paul Ventura jokes and runs his fingers around his head.
 The group laughs but echoes the concerns about the number of people in the Diocese who can sign and the quality of that signing.
 "Nuances are important," states Patty Lopez. "Some interpreters are better than others. Some are smooth, fluid, but some are stiff or sign small. That makes a difference."
 They can also run out of steam, adds her husband, a volunteer interpreter himself.
 "We get tired," explains Joe Lopez of St. Catherine of Alexandria, Riverside. "And nobody is 100 percent. After 20-25 minutes we drop down to about 50 percent and those are the skilled interpreters."
 Yet the interpreters say they're committed to the cause. They keep up their skills by welcoming critiques from the deaf and adjusting their signs accordingly.
 "I love serving the Church and the people," says Anita Metroka, interpreter. "I feel like God has given me the skill of signing and it's like what it says in the bible - don't put your light under a basket."
 Metroka was one of the interpreters signing at the Feb. 24 Welcome Mass for Coadjutor Bishop Alberto Rojas. Deaf attendees were given seats nearby for an unobstructed view. The seminarians were there as well, watching and learning. Most of the seminarians say that prior to the class they had no experience with ASL or deaf people.
 "I never had a friend who was deaf before. He (Sullivan) was the first window into that world- the needs, the obstacles, the concerns, says Rivas. "That did inspire me."
 Third year seminarian Luis Angeles was motivated to take ASL after seeing the anime movie "A Silent Voice."
 "It's about a deaf girl and how she was bullied and how she wanted to connect with other students, but she couldn't," describes Angeles. "I want to be prepared. I kind of regret not joining this class when I first started seminary."
 Larry Curtis, a second year seminarian, said he was saddened to learn how some deaf people have left their Catholic faith for other churches that offer them more services.
 "I would say sorry for not giving you (the deaf) what you deserve," conveys Curtis. "We're learning. We're doing our best. Hopefully we'll be there to help you when the time comes."
 Curtis has already been able to use his skills while working at a food bank. Others have found practical applications right at the seminary.
 "Sometimes we're getting ready for Mass or we're in chapel and it's supposed to be quiet," explains Demitri Chuzel, second year seminarian. "You can sign to others real quick 'Like did you remember to do the candles or what page are we on?' "
 Although, it didn't go so well when he tried not talking at all.
 "When I went home, I tried to do a whole day of only signing to my family. They stopped me after a couple hours," laughs Chuzel.
 Good natured laughter periodically breaks out during class as students try to let their fingers do the talking. Working in small groups, they practice words and phrases like God bless you, Bible and Trinity until they have them down. Sullivan moves around the room making sure they're signing correctly. Sometimes they're not.
 "[Sullivan] is a very loving man. He's very forgiving when we make a mistake," chuckles Nick Martell, first year seminarian. "He's there to teach us and walk with us."
 In turn, the seminarians are learning how to walk with the deaf in a way that is dignified.
 "We're supposed to make eye contact instead of just looking at them signing," says Oliver Garcia, first year seminarian. "You're talking to them not their hands."
 The seminarians say they hope to one day minister to the deaf through the Sacraments, counseling and simple one-on-one interaction.
 "God-willing if I become a priest, I want to be able to communicate with them," says Garcia. "I want them to feel included in the church that belongs to them."
 Rivas has impending plans for the "great gift" Sullivan has given him.
 "My big dream is to start an ASL club or some sort of committee in the Diocese," reveals Rivas. "I speak to a lot of young people, some who know ASL. I've encouraged them to use this skill to give back to the Church. We could really start something."
 Much to the delight of his teacher and friend.
 "I think it will be beautiful if they have that opportunity," smiles Sullivan. "I'm very happy."
---
 Natalie Romano is a freelance writer and a parishioner of The Holy Name of Jesus in Redlands.