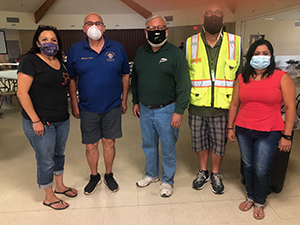 YUCAIPA—As the El Dorado Fire continues wreak havoc in the East San Bernardino Valley, St. Frances Xavier Cabrini parish has opened its doors to a group of evacuated youth and their caretakers.
On Sunday, September 6, St. Frances received 31 youth and 12 staff from Trinity Youth Services, a nearby facility that had been evacuated. The group is being housed in the parish center and will be staying there until they are able to return to their facility. Led by parish Emergency Preparedness Coordinator Joe Scarite and Office Manager Luz Lara, the parish has also worked to gather snacks, drinks, toiletries, towels, games and other recreational items for the guests.
"We've practiced this in the past, but we've never had to set up a shelter," said Scarite, a retired firefighter. "We made it happen Sunday afternoon."
Trinity Youth Services provides quality short-term residential programs, foster care and adoption services, and mental health programs to traumatized, abused, neglected and abandoned children throughout Southern California. The Director, whose father is a parishioner at St. Frances, contacted Deacon Peter Bond on Sunday to see if the parish could house the youth and some adult-aged counselors.
Scarite then activated the parish emergency response team and began to prepare the parish center for sheltering purposes. The local Knights of Columbus and Columbiettes have also been instrumental in collecting supplies for the guests, Scarite said.
"I am so touched by the generosity of our church," Nancyg Garcia, coordinator of the local Columbiettes chapter, wrote on Facebook.
The El Dorado Fire broke out on the morning of Sept. 5 and had burned more than 11,000 acres as of Wednesday morning, with 19 percent containment. Approximately 21,000 people had been evacuated from their homes as of Wednesday morning. St. Frances remains outside the evacuation zone boundaries for the El Dorado Fire but parish officials estimated that the fire line was a mere 10 minutes from the church.