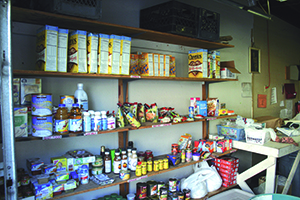 RIVERSIDE—Ten parishes in the Diocese received food pantry and parish assistance grants from the CARES program operated by the City of Riverside.
 These food pantry assistance grants, in the amount of $8,000 maximum per parish, can be used to provide turkeys, hams, canned vegetables, canned fruit, dry staples such as rice, flour, sugar and other items to many parish families experiencing food insecurity due to the impacts of the COVID-19 virus.
 Grants have been awarded to St. Anthony of Padua; St. John the Evangelist; St. Francis de Sales; Sacred Heart; St. Andrew Kim; Our Lady of Guadalupe – Shrine and Mission; Queen of Angels, and Our Lady of Perpetual Help.
 Many, who have lost jobs or have had family members who contracted the virus, can now receive holiday food assistance at a time when household celebrations are critically important to maintain a sense of normalcy during this challenging time of COVID-19 "shelter at home" restrictions.
 Parishes may use the funds to support an existing food pantry operation; reopen a food pantry that has closed due to lack of donations/support; or, to provide a one-time holiday food basket program for Thanksgiving, Feast of Our Lady of Guadalupe or Christmas celebrations.
 "Our Bishops are most grateful to the City of Riverside for this opportunity to participate in this CARES food insecurity program," stated Ann Marie Gallant, Director of the Diocesan Emergency Operations Collaborative (EOC). "We are heartened by the awards, which reaffirm that our local government agencies recognize the major role our parishes play in the distribution of food to the needy within certain under-served communities throughout the city."
 Our Lady of Perpetual Help also received a general parish assistance grant, in excess of $14,000, for utility cost impacts under COVID-19.
 "This parish assistance grant is so appreciated," said Monsignor Tom Wallace, Pastor of Our Lady of Perpetual Help in Riverside. "It arrived at a time when our parish, like so many others, is experiencing budget shortfalls as a result of restrictions to worship services."
 The Diocese, through its offices of EOC, Community Outreach and Apostolic and Ethnic Affairs, continues to pursue all available funding for our faith-based, social service programs, as they are announced by federal, state and city public agencies.