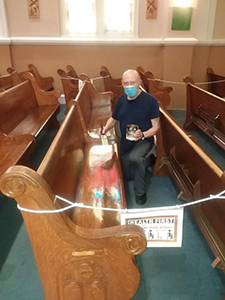 SAN BERNARDINO—In the first few days after the COVID-19 pandemic was declared and he was sheltering in place, Father Leonard DePasquale enjoyed working a few jigsaw puzzles with his idle time. Then he got a better idea.
 Long on his "to do list" at St. Bernardine Parish in San Bernardino, where he serves as Administrator, was fixing up the heavily scratched and gouged church pews. Public gathering restrictions meant that, save for a few weeks in June and July, no public Masses were being held in the church at St. Bernardine. What better time to take on this project?
 "I wanted to do it a while ago," Fr. DePasquale said. "I call it my COVID-19 project."
 More than just light wear and tear, the pews were heavily damaged from what Fr. DePasquale suspects is children carving and scratching them with their parents' keys during Mass.
 He started the job in March, working a few hours each week, and finished just last month. It was a multi-step process: he filled the scratches, chips, and gouges, then he sanded and cleaned the repaired areas, stained them, applied two coats of varnish, and then buffed them.
The small church has over 60 pews.
 "I did it all by myself. The church was quiet," he said. "It was a thoughtful, meditative process."
 It wasn't the first time Fr. DePasquale tried his hand at woodwork and pew restoration, specifically. When he was in ministry at a parish in Texas years ago, he said he was part of a similar effort. Going back further, he said learned that basics of woodwork as a kid.
 "My Dad was a master of the [building] trades," Fr. DePasquale recalls. "He taught me a few things."
 Fr. DePasquale kept the project to himself for months before updating parishioners about it in a short parish bulletin article in October.
 "I hope everyone will keep an eye open and be careful so that we do not damage the fixtures of our beautiful Church," he wrote. "I am happy to have spent a good deal of time doing this work as a service to our community and as an act of praise to our God who is loving and kind."