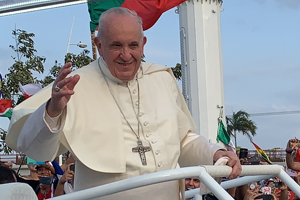 It wasn't lost on Brenda Noriega that the 111 diocesan pilgrims who traveled to Panama for World Youth Day 2019 had to go 3,000 miles to learn a little bit more about hospitality – one of the four core values practiced here in the Diocese of San Bernardino.
 Host families in Costa Rica, where the pilgrims spent their first four days, and later in Panama, offered an unguarded welcome, said Noriega, the Young Adult Ministry Coordinator for the Diocese who spearheaded the Diocesan participation in WYD.
 "They raised the bar for us as a Diocese that has a core value of hospitality," she said. "They knew what we went through to get here. They knew that we loved God, that we were seeking Christ. 
 "That's all they needed to open their homes to us."