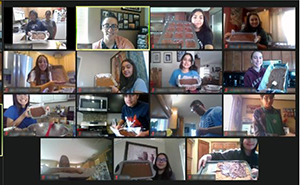 SAN JACINTO—With Catholic Online Synchronous Learning (COSL) in full swing, St. Hyacinth Academy Principal Grace Lacsamana felt the need for screen-time breaks that are beneficial for the students, parents and teachers.
 St. Hyacinth's online learning has been following the regular school schedule to make the students feel as close to "normal school" as possible. Students as young as kindergarten, have learned to maneuver through their computers to access online programs, turn their microphones on and off, go into their breakout rooms for small group activities, and really focus on the screen as their teacher gives the lessons.
 It has been tough for students and teachers alike; but they get their work done, and based on the results of their assessments, learning is definitely taking place.
 So, to give the students some brain breaks, Lacsamana started giving lessons on anything they could do from their homes.
 Students were asked what they wanted to learn (aside from the academic). These activities have allowed for socialization via Zoom; learning some new skills; and being reminded to help out around the house. And so far, these are what the students have done:
 • Homemade Ice Cream in a Bag and No-Bake Peanut Butter Bars
 • Folding laundry
 And you know who enjoyed these as much as the students? Yes—their parents who got to help the kids prepare all the ingredients and materials needed; those who got to watch their kids do the activities; and those who got to taste what they have made!!! And of course, Ms. Lacsamana surely enjoyed doing all these with them!